This month we're celebrating Production Coordinator Heather McNall-Lang! A core member of our production team, Heather keeps all of our orders running smoothly and ensures the team and our clients have what they need, when they need it. She's a team player, often pitching in to help in other departments as needed. Heather is used to the spotlight, and can often be found on stage singing, acting, or directing in her spare time!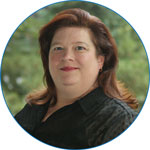 Name:
Heather McNall-Lang
Department:
Production
Title:
Production Coordinator
Years at Knotts: 13
Tell us about what you do:
Assembly quoting, design assistance, Bills of Material, assembly orders, production orders, ordering parts, expediting parts all cross my desk on a daily basis. I've also been known to go out in the shop and build things if we are busy!
What else have you done at Knotts over your tenure?
I was hired into the job I am currently doing, but I have helped out with Customer Service and Inventory.

What's a recent challenge a customer (or internal Knotts Team) brought you and how did you solve it?
We recently had a couple of customers need assemblies for COVID-19 related projects that were time critical. I worked with our vendors to expedite the parts, and had some 80/20 sent in via courier service so we could meet the customer's deadline. Special thanks to Ken Butt and Walter Valentine who came in on the weekend to receive the parts and build!
What you love most about working at Knotts?
It is a small company with a big heart. I am a recent Breast Cancer survivor, and they worked with me around my chemo and radiation schedules, as well as how I was feeling each day. It was nice to know they had my back.
What do you enjoy doing outside of work?
I sing in my church choir, and have recently started piano lessons. I also enjoy acting and directing skits, plays and musicals for faith based theater groups. I also enjoy cooking and baking when I have the time!