Ted has given us 20 years of service! It is bittersweet for us that he will soon retire. We wish him well and will very much miss seeing him every day.
Rick Howe, Knotts' President, explains "for 20 years Ted has been a mainstay in customer service at The Knotts Company. His work ethic and devotion to customers has been exemplary."
And Ivette Sanchez, Customer Service Manager, shares
"it has been a pleasure working with and getting to know Ted over the past 20 years. He has been an invaluable member of the Knotts gang and more importantly a great person and friend.
His vigilant work ethic and can-do attitude made him a key part of our customer service team. I am sure I speak for everyone when I wish him and his lovely wife, Nina, the very best
in their retirement plans.
Save some Florida sun for us! "
We know many of you have spoken with Ted over the years. He's a little more background about him.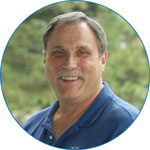 Name:
Ted Orlowski

Department:
Customer Service
Title:
Customer Service Representative
Years at Knotts:
20
Tell us about what you do:
I feel my main role is to be a problem solver and advocate for our customers.
What made you stay here so long?
I am a people person and enjoy the interactions I have with both our customers and vendors alike. It is satisfying to know that we are able to make a difference for our customers. We don't just take an order and forget about it. We care enough to follow through and make sure that all orders are completed to our customers satisfaction.
What makes us different from many other distributors is the fact that we make an extra effort to treat each order as if it is our own.
What you love most about working at Knotts?
What is special is that we are more than just employees but more like friends and family.
What do you take away with you as you retire from The Knotts Company? It has been an honor and a privilege to have worked with every individual at our company. Come join me for the endless summer that is Florida.